The Only Voluntary Benefits Program That Pays You
Over And Over (And Over) Again.
Many have heard that Landmark Medical Center announced a new voluntary benefits program called LIVING 2.0 Rewards, and the response has been amazing!
So, I'm not going to bury the lead: If you use Living 2.0 Rewards, you will save—and earn—anywhere from $50-$700. Every. Single. Month.
How, you ask?
It's simple, because they can do things like this: They pay you to burn calories. They can lower your monthly student loan payments by as much as 40%. They give you instant cash back at the places you already eat and shop at. Stuff like that…
Oh, and Living 2.0 Rewards is only $9.95 a month, and it's available right now to you and your family and friends. For real.
Living 2.0 Rewards is a collection of Health and Wellness benefits designed to help you zero in on your total financial freedom. That means they only provide you with programs that will actually improve your financial picture—and the quality of your life.
So, when you subscribe to Living 2.0 Rewards, you get their core collection of 5 programs:
Bearn – Earn cash for every calorie you burn, no special exercise required, no limits on how much you can earn.
ShoppingBoss – In store or online, earn an average 6% instant cash back at over 270 retailers & restaurants across the country.
StuLo – Struggling with Student Loan Debt? Work with our specialists to reduce your loans up to 40%.
TravNow – The best travel site you've never heard of—guaranteed lowest price for Hotels & Resorts, plus discounts on dining, entertainment, coupons, & cash-back shopping.
Zebit – Your go-to store for emergencies, unexpected expenses, and life-event purchases. Shop millions of products and pay over 6 months—interest-free.
Plus, you can choose to add any one of their Health & Wellness apps, at no additional charge:
CoupleWise – Repair, grow & strengthen your marriage or committed relationship.
Face2Face Health – The most accurate source for parents to take control of their child's health & well-being.
College Survival Kit – The Do's and Don'ts of how to get into the right College & get more financial aid.
eQuoo – A mobile game that teaches how to reduce stress & anxiety.
Living 2.0 Rewards helps you take on your financial freedom, but their Health & Wellness apps allow you to customize your subscription to fit your life:
If your marriage or committed relationship could use some support, get CoupleWise. If you have children who are in high school, add College Survival Kit to learn how to maximize your financial aid and lower your overall college costs. If your children are more like in the Day Care-to-Driver's Permit-range, add Face2Face Health, the Internet's most trustworthy knowledgebase for everything having to do with child development. And if you have social anxiety, get their smartphone game eQuoo and play your way out of it!
I already mentioned that it's just $9.95 a month, right?
There's tons of ways to not only get your Rewards subscription to pay for itself, but also earn you money every month. Take Bearn, for example: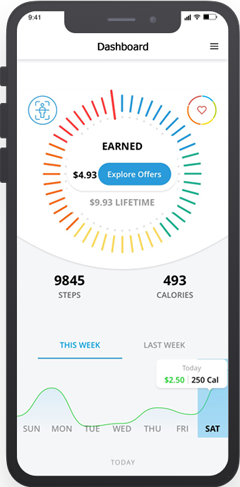 Above: the Bearn Dashboard
20 steps = 1 calorie burned
1 calorie burned = $0.01
2,000 steps a day = $1.00 earned
So you would pay off your subscription
in just over a week!
We all know that when money's tight, it increases our anxiety and puts endless stress on ourselves, our families, and our relationships—that's the "why" behind Living 2.0 Rewards: they pay you to help free you from stress and anxiety so you can live your life to the fullest!