The only voluntary benefits program that keeps you healthier and makes you money.
Hi. Just to dive right in: LIVING 2.0 Essentials is here to do 2 things for you—keep you healthy and put more money in your pocket.
If there's one thing the pandemic has shown us is, people need more money and they need affordable access to health services. If you sign up for the bundle of programs in Essentials, you can get access to health services like relationship counseling, sober living help, and even a program that test for PTSD and other serious health risks.
Oh, and you can save up to $1000 a month. Every month. For real. And, LIVING 2.0 Essentials is only $11.49 a month, and it's available right now.
Check out how much you can save.
We developed two different bundles of benefits inside LIVING 2.0 Essentials with you in mind: Start LIVING 2.0 to give you award-winning programs to help address your mental health, and LIVING 2.0 Save to get you the financial relief you need.
Start LIVING 2.0 is a collection of 5 health + well-being programs that address the most important areas of your emotional life. Your relationships, stress + anxiety, child development issues, self-testing for PTSD and other Traumas, plus an award-winning mobile app to help with sober living.
LIVING 2.0 Save gives you 8 different programs and a ton of ways to save money—and make money. You could be saving up to $1,000 a month (for real). We even offer a 100% money-back guarantee on your first month.
Subscribe to one, or both. Whatever you need most. Check out the programs, below:

Relationship Health – repair, grow + strengthen your marriage or committed relationship.
PTSD Recovery+ – a self-administered test that can identify several types of PTSD and other health risks.

Social Anxiety Relief – a mobile game that teaches how to reduce stress + anxiety.

Child Development+ – the most accurate source for parents to take control of their child's health + wellbeing.

Smart Sober Living – a complete 28 day + 1 year recovery support program for Opioid, drug & alcohol addiction.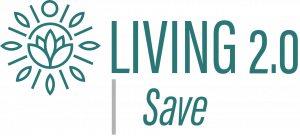 Lower Your Bills – you upload your bills. We lower your bills. We split the savings.

0% Pay Day Loans + Instant Cash Back – get access to your paycheck immediately – with no fee! Plus 3 more money saving benefits!

Get Paid To Exercise – earn cash for every calorie you burn, no special exercise required, no limits on how much you can earn.

Smart Medication Manager – resolve medication administration issues for seniors. Take the right amount at the right time.

Travel, Entertainment, and Dining Discounts – get discounts on Take-out and $100's in Grocery coupons. Plus guaranteed lowest price for Hotels + Resorts, entertainment, + cash-back shopping.

Student Loan Debt Relief – struggling with Student Loan Debt? Work with our specialists to reduce your loans up to 40%.
Shop Now, Pay Later – your go-to store for emergencies, unexpected expenses, and life-event purchases. Shop millions of products and pay over 6 months—interest-free.
Cash Back Mall – shop at over 1,400 stores with cashback, special offers, + more!
I already mentioned that it's just $11.49 a month, right?
There's tons of ways to not only get your Essentials subscription to pay for itself, but also earn you money every month. Take Get Paid To Exercise, for example:
20 steps = 1 calorie burned
1 calorie burned = $0.025
4,000 steps a day = $1.00 earned
So you would pay off your subscription
in just over a ten days!
We all know that what happens in the world affects us emotionally, personally, and professionally. What we don't always see is how those affects travel outward to impact every aspect of our lives.
That's why we're here—to help you save money (and your health), for life.